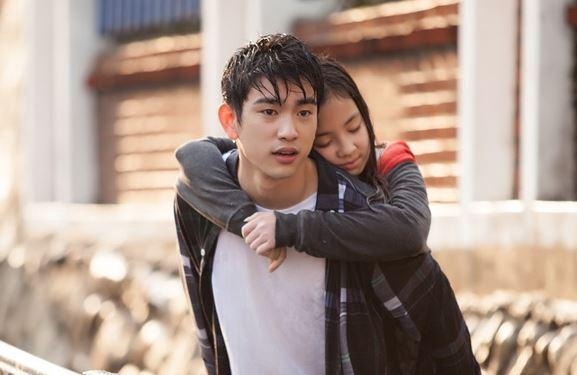 사랑하는 은동아: 더 비기닝 (My Love Eun Dong: The Beginning) is a South Korean web drama and the prequel to jTBC's "My Love Eun Dong". The series aired from May 18th to May 26th 2015 through Naver TV Cast.
Story: This short series shows how Ji Eun-dong and Park Hyun-soo, later known as Ji Eun-ho, meet for the first time and become close friends. After Eun-dong's grandmother dies she's adopted and the two of them don't get a chance to meet for ten years. They then start to develop even deeper feelings for each other until they're seperated again.
Cast: The story starts of with the teen characters. At that time
Park Jin-young
of GOT7 plays Park Hyun-soo. The acting is pretty decent but he's not one of the best actors I've ever seen.
Lee Ja-in
as Ji Eun-dong is the female main character in this generation. Her acting was good after all. The friendship the two of them showed was a nice thing to watch but I honestly refuse to call it romantic interest or something. It would be kind of a pedo thing if I would regard it as a love interest so I prefer just staying with a good friendship that might be close to the way siblings feel for each other.
The next generation consists of
Baek Sung-hyun
as Park Hyun-soo/ Ji Eun-ho and
Yoon So-hee
as Ji Eun-dong. The two of them can pull off some chemistry and I enjoyed watching their scenes a lot though they're not as cute and innocent as the first couple (but the first pairing wouldn't have been legal for whatever's sake..). And I loved to see Baek Sung-hyun dealing with different emotions in this.
The last generations is played by
Joo Jin-mo
and
Kim Sa-rang
. Now there wasn't too much of them in this prequel but so far they delivered a solid performance.
Other actors in this short series are
Kim Hyung-kyu
as Eun-ho's friend and
Jang Ki-yong
as Lee Seok-tae.
After all I've rated this short series with a
7.5/10
though I'm not really sure why. It was a cute love story I enjoyed a lot. Maybe it's because some scenes were shown over and over again. That wasn't necessary, the whole series had a duration of only a little more than one hour.
Is it worth watching if you plan on watching the actual series? Well, I'm going to check that out and will report back when writing the review for the original TV series.