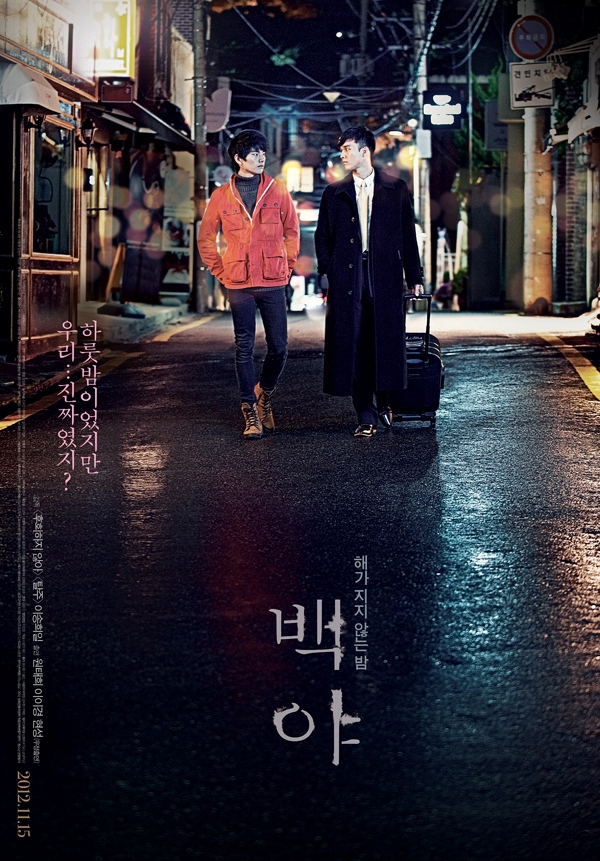 !Warning! This is a Boys Love movie - don't like it? Then ignore it
.
백야 (White Night, also known as
One Night and Two Days
) is a South Korean boys love movie directed by Lee Song Hee-il and was released in 2012.
Story: Kang Won-gyu left Seoul after traumatic events and comes back two years after what happened. While memories just come to live again, he meets Lee Tae-jun online. The two of them spend a special night together but not simply in a way one would expect - unexpected things keep happening especially to Tae-jun who doesn't know why Kang Won-gyu returned.
Cast:
Won Tae-hee
as Kang Won-gyu is actually an interesting character with a lots of secrets around him in the beginning that the viewer wants to solve out of curiosity. His acting in this movie is pretty good and I enjoyed watching his character after all. The reason I was dying to watch this movie as soon as I found out about it was
Lee Yi-kyung
though and his character Lee Tae-jun is more badass and less quiet than I expected him to be at first. I really liked his acting as well. I don't really know what I should tell you about it but sometimes I just felt like his characters thoughts were written all over his face but I still couldn't fully understand it.
After all this was a really interesting combination of actors and their characters as well as the way they acted and it in fact did work while at some point I just missed something like.. the chemistry.
After all this movie gets a
6.5/10
rating from me for a few reasons. It's fast-paced since it only has a runtime of 75 minutes so they needed to use that time. The acting in fact was good though the chemistry is missing up to some point. The music was beautiful but nothing too special. The setting was really beautiful, I like the place pretty much giving a view over certain parts of Seoul.
But at some point this movie again lacked just some exciting factor for me so sometimes I found myself rather bored.
It's not bad and I'll probably watch it again someday just to get the full story, preferably without subtitles so I don't need to rely on translations as much as I need to as of now.
But one thing: Won Tae-hee speaking a few lines of German in this movie is just too cute but I didn't really understand it's German at first. That accent basically killed me, it's adorable!