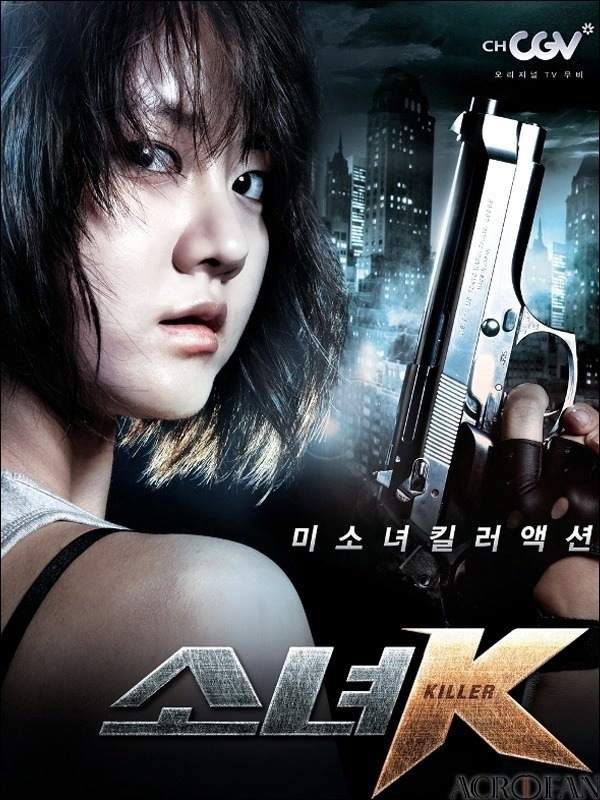 소녀 K (Little Girl K, Killer K) is a South Korean short drama series described by channel CGV as a TV movie consisting of 3 episodes. It aired on CGV from August 27th to September 10th 2011.
Story: Cha Yeon-jin is a highschool student who was taught various martial arts starting from her childhood. One day she meets her friends at the port and in a shooting where many people get killed she and police officer Choi Tae-young are the only survivors.
In the same night, Yeon-jin's mother disappears and the young girl who got suspended from school tries to find and save her with the help of Yoo Sung-ho, an old friend of her mother.
Two years later, Yeon-jin is supposedly dead and sneaked into SS1 to get revenge. Going by the name Kim So-yeon she is a professional killer taking out those who are working against the company. Chief Min Ji-young took care of and trained her during the past years which gives Yeon-jin professionalism even though she wants to stop working for the company.
Cast: This drama was the first role for singer-songwriter
Han Groo
as Cha Yeon-jin and it was just a badass but also multidimensional character that her acting was awesome for a debut.
Kim Jung-tae
as Yoo Sung-ho was also very good as a protective father-character. I would've wished to know more about his background though, and why exactly he decided to leave SS1 back in the days.
Baek Do-bin
as Choi Tae-young gave it some comedious feeling which was just nice and refreshing to watch in a series that is 95% based on action (what I'm totally in for though).
Park Hyo-joo
as Min Ji-young was definitely also a character that was so badass in so many ways. The acting was great but I would've loved to know more about the character and why she started working for the company.
Kim Roe-ha
as Jang Se-wook was just annoying me so much. The acting was great but I was hoping for someone to at least make him shut up.. Probably not a character you will be able to stand if you like religion as much as I do.
Soundtrack: Oh, the soundtrack.. a very difficult thing. I loved the music they used but of course there aren't many songs you can listen to to remember this drama since it is only short and the OST literally consists of two parts. However, the instrumental music was good and I really enjoyed it.
In total I rated this drama as a
8/10
. It is packed with action and an independent female lead, it was interesting and also included some lighter scenes like highschool lovey-dovey but it also had dark moments. While I personally really enjoyed the story I couldn't stand Jang Se-wook and was close to turning off the sound.
Another problem about this series was the lack of background information. It wouldn't have been that hard to give some more information in one or two lines. Oh, and making the mother that stupid (yes, she's worried about her child but runs into a trap) was just unnecessary. So it could've been better but that still doesn't mean it is bad.
That was me in highschool every single day when I was finally allowed to go home!