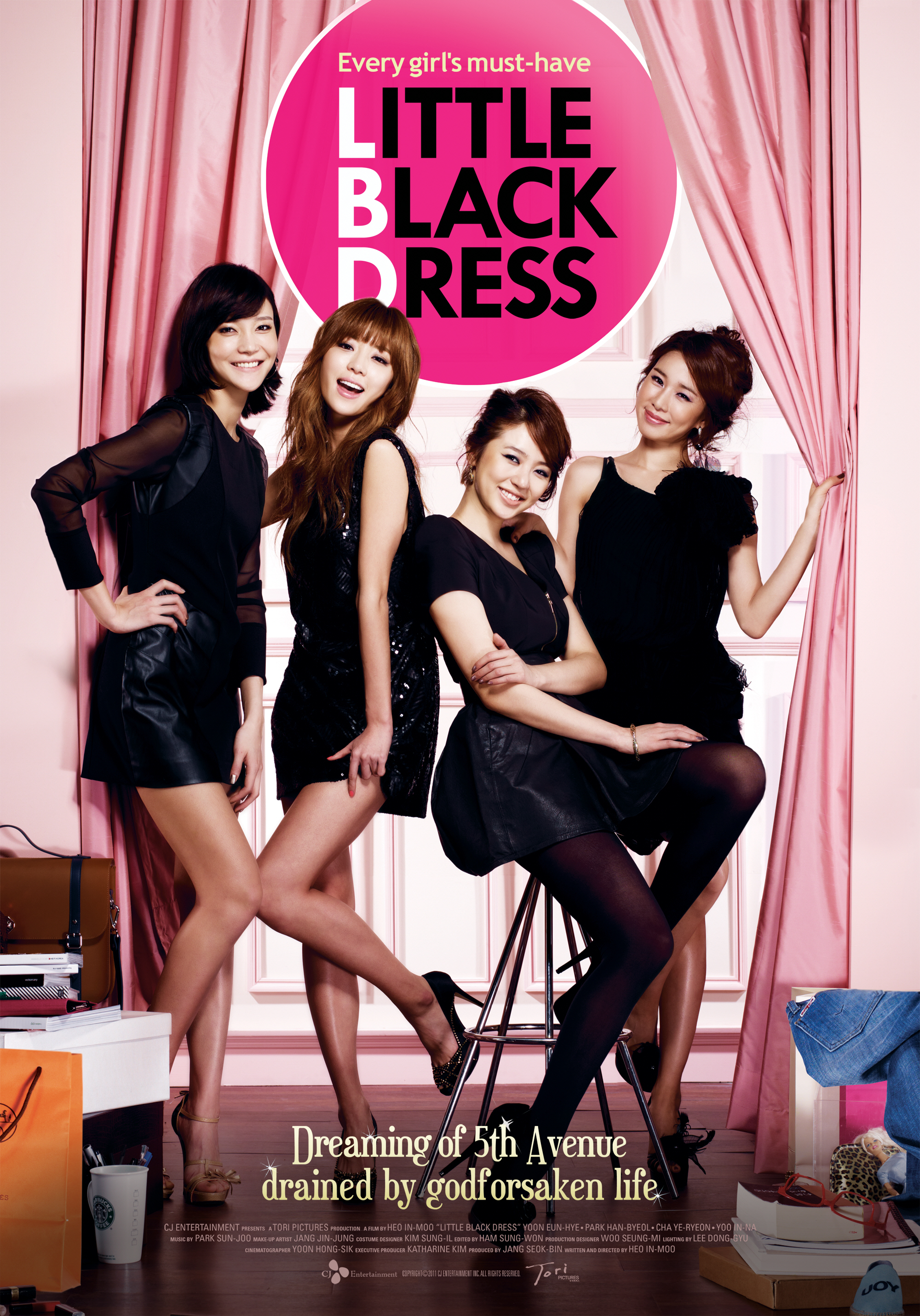 마이 블랙 미니드레스 (My Black Mini Dress; Little Black Dress) is a South Korean Movie that was directed by Heo In-moo and released in 2011. It has a running time of 107 minutes.


Story: The movie deals with the friendship, hopes, wishes and failures of four 24 year-olds who just graduated from university.
Yoo-min still doesn't know what she wants to do but ends up working as a supporting writer. Going to the interview in a sports suit because she was told to her new boss sends her off to buy clothes with the credit card given to her and she ends up buying a black mini dress at a luxury department store and accepts the job. However, her job mainly consists of organizing papers or taking care of the main writer's twin sons. She runs into Young-mi one day, a girl she knew from highschool, who also works as a supporting writer.
Hye-ji is a party girl and busy enjoying life to its fullest. One day she is scouted by a talent agency because the manager saw her dancing in a club. Shooting to stardom quickly she experiences her friends' jealousy as well as the problems of sudding stardom.
Soo-jin tried to become an actress but failed and is most jealous of Hye-ji. After failing in many auditions she faked her degree and started to work as a tutor.
Min-hee has rich parents who are going to get divorced. In order to avoid the drama she wants to study abroad but her language skills are not good enough so she wants to get Hye-ji to attend an academy with her.


Cast: Yoon Eun-hye portrays the kinda clueless character of Yoo-min good but it wasn't really an outstanding performance. In certain parts her acting seems a little bit bland.
Park Han-byul as Hye-ji did a good job portraying her character and the problems of the sudden rise to fame as well as the regular fights with Soo-jin. An actress playing in actress - it sounds a bit ironic but the role was played fairly well.
Cha Ye-ryun was best in her role as the jealous and unsuccessful tutor who just wants to become an actress instead of teaching. As mentioned just above the fights with Soo-jin are portrayed well.
Yoo In-na as Min-hee is of course incredibly beautiful but just seems to be the typical, dumb kid born to rich parents. I won't say the acting was bland but it was just ridiculous and unrealistic.

My rating for this movie is a
3.5/10
and it is not only a little bit disappointing.
While it does remind me of Sex and the City in certain ways it is just a pointless movie - what are they trying to say with this? In the very first place, why are the girls still friends? If they are jealous of each other and don't get along what is the reason? Is there a special bond? Why did they even bring in a male character? This movie was somehow funny just because it did not make sense and didn't really have a point or a plot at all.
e